Long Island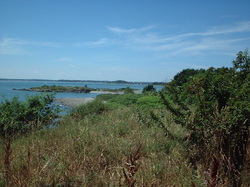 Long Island has one of the most varied histories of the Harbor Islands and Long Island is the largest and longest Boston Harbor Island. The Long Island Bridge connects Long to Moon Island; a two-lane causeway connects Moon Island to Squantum, City of Quincy.
Prehistoric habitation sites may exist on Long Island, according to archaeologists. In 1634, tenant farming on Long Island began with 40 families. Long Island Light was built in 1819. In 1863, Fort Wightman, later renamed Fort Strong, was built, near which are buried the remains of 79 Civil War soldiers. During World War I, 500 soldiers were stationed at Fort Strong. The Fort, long abandoned, stands in disrepair. In the 1950s, a Nike missile base was established. After the missiles were removed, the base stored books from the Boston Public Library.
For much of the 19th century, Long Island was a resort. By 1882, the City of Boston acquired the largest hotel and in 1891 converted it into a poor house for 650 people. In 1921, the City converted the almshouse into a home and hospital for unwed mothers; in 1928, it built an addition to house homeless men; and in 1941, it enlarged this facility to provide treatment for alcoholics. The 60-acre Long Island Chronic Care Hospital later closed.
Today, on this campus, the City of Boston Public Health Commission houses the Long Island Shelter and a number of human-service agencies helping an average daily population of 1000. The Shelter operates a garden.
The first lighthouse on Long Island was constructed around 1794 on Long Island Head. The second lighthouse, built as a replacement in 1819, still stands today, although it has been moved twice to make room for military structures. (from the
City of Boston
)
For more information check these web pages:
Wikipedia - Long Island
National Park Service - Long Island
City of Boston - Long Island
Long Island Light
Coastal Defense
---
Photos from the 2012 Annual Meeting