_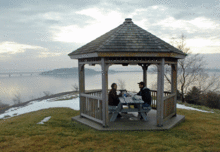 South Drumlin Gazebo
_
Start the new year
with
New Beginnings * Serenity * Calm and a tour of Spectacle Island
. The island was once home to range lights (similar to lighthouses), with several families living there, later a hotel, and city dump. During Boston's famous "Big Dig" the island was transformed into a beautiful park with what is now the highest point in Boston Harbor on the North Drumlin. Pack a picnic, explore on your own, or take a tour with a FBHI Volunteer. The Visitor Center will be open with book and merchandise sales. For more information about Spectacle Island
CLICK HERE
.
Trip departs from Rowes Wharf in Downtown Boston (60 Rowes Wharf). Boarding begins at 11:30 am. Tickets can be purchased by going to
Brown Paper Tickets
Click HERE
. Boat will leave promptly at 12 noon and returns to the dock at 4pm. Closest MBTA Station is South Station / Red Line.Park policy states no pets, and no alcohol. Refunds only if the trip is canceled by the Captain, sorry no exceptions. Tickets will be sold at the dock, cash only please (at this time).
---
Spectacle Island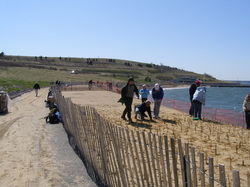 Volunteers planting sea grass
Spectacle Island
situated some 4 miles (6.4 km) offshore of downtown Boston. It is served throughout the year by ferries from Boston, and on weekends and summer weekdays by a shuttle boat to and from the other surrounding islands.
The island was initially composed of two small drumlins connected by a spit, with an approximate size of 49 acres (200,000 m2). The name is believed to derive from its then-resemblance to a pair of spectacles. However, dumping of trash and dirt, together with subsequent landscaping, have resulted in a significantly larger island with a permanent size of 85 acres (340,000 m2), plus an intertidal zone of a further 28 acres (110,000 m2). The island is now composed of two artificial earth mounds, terraced with retaining walls, roads and newly planted vegetation. With a height above sea level of 157 feet (48 m), Spectacle Island is now one of the highest points on Boston Harbor.
Archaeological evidence suggests Native Americans used the island as a fishing and clamming spot starting around 600 AD This continued till around 1615, when European diseases killed virtually all of the native population. Europeans began use of the island in the 1630s, first as a source of firewood, then as a smallpox quarantine. From the 1730s, the island housed farmsteads and picnickers.
Starting in the early 19th century, the island was used exclusively for its relative remoteness from Boston. Two hotels were built in 1847, only to be closed by police ten years later when it was discovered they were used for gambling and other illicit activities. In 1897 the Spectacle Island Range Lights were constructed; they were discontinued after changes in the shipping channel in 1913.
The marina on Spectacle Island in summer as viewed from one of the foot-trails from the North Summit. Thompson Island can be seen in the background.A horse rendering plant was built in 1857, followed by a city trash incinerator that remained active until 1935. When the incinerator closed, trash was simply dumped on the island for the next thirty years, until a bulldozer was suddenly swallowed up by the trash in 1959. The island remained a smelly, leaking dump until the 1990s.
When the Big Dig began work in Boston in 1992, some of the excavated dirt and clay was used to resurface the island. The island was covered and built up by dirt, capped with two feet of clay, and covered with two to five feet of topsoil. Thousands of trees were planted, and paths, buildings, and a dock were built. The island opened to the public in June 2006, for use as a recreational area with hiking trails, a beach, and a marina with boat slips for visitors. It also has a cafe and visitors center. (source Wikipedia)
Additional sources:
Jasper Whites Summer Shack
---