Georges Island & Fort Warren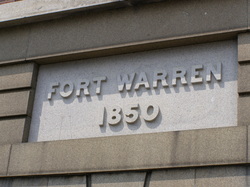 Fort Warren was built from 1833 to 1861 and was completed shortly after the beginning of the American Civil War. The Army engineer in charge during the bulk of the fort's construction was Colonel Sylvanus Thayer best known for his tenure as Superintendent of the United States Military Academy at West Point, New York. During the Civil War, the island fort served as a prison for captured Confederate army and navy personnel, elected civil officials from the state of Maryland, as well as Northern political prisoners.
James M. Mason and John Slidell, the Confederate diplomats seized in the
Trent
affair, were among those held at the fort. Military officers held at Fort Warren include Richard S. Ewell, Isaac R. Trimble,John Gregg, Adam "Stovepipe" Johnson, Simon Bolivar Buckner, Sr., and Lloyd Tilghman. High ranking civilians held at Fort Warren include Confederate Vice President Alexander H. Stephens, and Confederate Postmaster General John Henninger Reagan. The prison camp had a reputation for humane treatment of its detainees. When the camp commander's son, Lieutenant Justin E. Dimick, left Fort Warren for active duty in the field with the Second U.S. Artillery, he was given a letter from Confederate officers in the camp urging good care should he be captured. (He was later mortally wounded at Chancellorsville in May, 1863.)
The famous Union marching song
John Brown
was written at the fort using a tune from an old Methodist camp song. The song was carried to the Army of the Potomac by the men of the "Webster Regiment" (12th Massachusetts Infantry) who had mustered in at Fort Warren. Julia Ward Howe heard this song while visiting Washington DC. At the suggestion of her minister, Howe was encouraged to write new words.
The Battle Hymn of the Republic
, which was initially published as a poem, was later matched with the melody of the "John Brown" song and became one of the best remembered songs of the Civil War era.
Fort Warren remained active through the Spanish-American War and World War I. The fort was modified in the late 1890s through the beginning of the twentieth century to accommodate the newer rifled ordnance then being developed for coastal defense. During World War II, the fort served as a control center for Boston Harbor's south mine field, a precaution taken in anticipation of potential attacks by U-boats. At that time, Fort Warren was staffed by personnel of the 241st Coast Artillery (Harbor Defense), a Massachusetts National Guard unit that was federalized in September, 1940. Fort Warren was permanently decommissioned after 1950.(source: wikipedia)
For 2012 visit a special display in the room next to the hospital at Georges Island - the display has 2 sections, 1) about several woman and their stay on Great Brewester Island, and 2) about Rainsford Island.
Lady in Black story
History of Ft Warren
(Jay Schmidt)
Video Ft Warren in 1950
---
photos (below) by Walter Hope (c) 2010, 2012