Get involved - volunteer with the Friends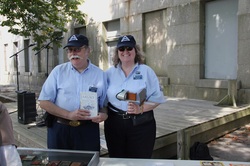 As advocates and providers of direct volunteer service the Friends have expanded our educational, environmental, and recreational opportunities in the Boston Harbor Islands National Park Area.
Volunteering with the Friends of the Boston Harbor Islands.
The Friends have been providing volunteer service to the islands since 1979.
Volunteers provide visitors with information about the harbor and the islands through interpretive tours, educational programming and a welcoming presence on the islands.

The harbor islands call out with a sense of mystery and lure transmitted to each individual in a special way. Come and find your place on the islands and help visitors discover theirs… it could change your life!

Volunteers develop background skills and knowledge by participating in recreational and educational projects and assisting the visitor in building a meaningful relationship with the islands that encourages support for their preservation.
As you prepare for volunteer service you:
will be interviewed by the Coordinator of Volunteers
will receive training that will give you a background of the Boston Harbor Islands National Park. This will include information about the development and history of the park and basic overview of the harbor islands.
After being trained you will be assisted in finding satisfying volunteer work.
Much of your volunteer experience will be out of doors and subject to various weather conditions. You will need to be physically able to move around on boats and the islands and have some exposure to sun.
will be encouraged to volunteer for at least 40 hours each year.
will have access to lectures, meetings and social gatherings that will enhance your harbor volunteer experience.

To sign up or ask questions, please complete the Contact Form below.
A Message from Carol Fithian, Coordinator of Volunteers:Greetings to all returning and potential new FBHI volunteers.
Lots of changes coming this year along with familiar programs and the staff you have worked with in the past. Volunteer training will help you sort it all out and reconnect you with the islands and the faces you have come to know and also waiting to discover.
Here are some training dates to mark on your calendar:
Volunteer Training 2016Boston Light Training
(program is full, no further volunteers are needed for this season)
Sunday May 18:30-12:45 (Newbees) 1:00-3:00 (Returnees)
There are only 5 positions open for Newbees
To register fill out contact form on this site or e-mail
the Coordinator of Volunteers at fithiancj@comcast.net
Additional Training Dates:
May 21 Island Orientation Training
Location: 45 Devonshire Street, Boston (across from Old State House)
Time: 9:30-3:00
Morning session focusing on islands and the park
Lunch Break
Afternoon session on volunteering
To register for training e-mail the Coordinator of Volunteers :
fithiancj@comcast.net

June 4 Training - Boat Trip for visitor Service volunteers working on Georges, Spectacle and the Boston Waterfront
Time 9:00-4:00
Departs Rows Wharf boston for Grape Island and Bumpkin island
To register for training e-mail the Coordinator of Volunteers :
fithiancj@comcast.net
Volunteer Opportunities
(see below for in-depth job descriptions (PDF files that you can download).
Visitor Service Volunteer - positions are available on the islands and at mainland gateways. Answer visitor questions and learn skills for site interpretation. Greet visitors and provide information about ferries. (description below) GEORGES ISLAND, SPECTACLE ISLAND.
Work with park rangers to assist campers and maintain trails. A great outdoors experience. Give at least 2 weekends per season, or choose a weeknight slot.
No "live in" positions available. You must be 21 + to camp overnight.
Camping equipment and CORI (Criminal Offender Record Information, required by the State) check required/ ( see description below)
Boat Trip Volunteer - We offer boat trips to islands that are not ordinarily accessible. You can help out and enjoy a different kind of harbor adventure. Assist with merchandise and ticket sales, or learn to be a cruise narrator. Interaction with passengers throughout the cruise is a must. You will be distributing island brochures and answering passenger questions.
Boston Light Volunteer - Help the National Park Service, Island Alliance and U.S. Coast Guard Auxiliary on Little Brewster Island. Interact with the public, answer queries, and present short interpretive programs.
FBHI Office Volunteer - Help needed on various projects throughout the year. No minimum hours required. Answer phone and email inquiries, input data, and prepare membership mailings. Some tasks may be done from your home.
Spread the word about Friends' activities. Use your creativity to assist with our "Tidings" newsletter,. design posters, help with event publicity, or if you have applicable skills, assist with media and marketing. Assist with exhibits and displays, talks and PowerPoint presentations at libraries throughout the Greater Boston area.


Work on our newsletter team.
Special Volunteer Projects
Storytelling - A Living Legacy continuing the tradition of Edward Rowe Snow.
Special exhibits and displays that bring images of the islands to mainland communities.
Boat trip narrator.
Children's crafts and island activities
Spread the word! - Ask your employer or a business friend if their company would like to sponsor a FBHI project, event, or supplies for the volunteer program.
Support the FBHI by participating in fund raising and leadership projects
---
Interested in becoming a volunteer? Email our Volunteer Coordinator with your name, phone number, and area of interest and she'll get back to you - and thank you!




Are you a State Employee?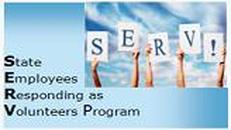 Some
state employees may volunteer during regular work schedule up to one day per month with supervisory approval. The Friends are an approved non-profit for this program. Click on
STATE EMPLOYEE SERV
to learn more.
---
---
Interested in volunteering? "click" on the job descriptions below to download the information. After you've read the description, complete the Initial Volunteer Inquiry/Application Form (below). Our Volunteer Coordinator will contact you shortly.

volunteer_job_description_visitor_services_spectacle2012.pdf
File Size:
38 kb
File Type:
pdf
Download File
---
volunteer_job_description_visitor_services_georges2012.pdf
File Size:
41 kb
File Type:
pdf
Download File
---
Contact Form