Volunteer Training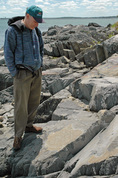 FBHI Volunteer Training 2014
Our volunteer training is offered primarily during May and June. The training is free of charge. We do encourage volunteers to become a member of the organization to support the volunteer program and receive discounts on harbor cruises. This is not manditory. If you have questions about training or would like to sign up for a training
e-
mail or call the FBHI Volunteer office.
General Island Orientation
training Saturday May 10 at boston Public Library Johnson Building Conference room #1. Training time: 11:00a.m.-1:00p.m.
May 31: Getting to Know the Islands a boat trip training: 10:00a.m.-2:00p.m.
Additional Dates:

Georges Island Training: June 7

Spectacle Island Training: June 14

LovellsIsland Training: June 21
Campground Host Training: June 28

Training for Stewardship projects is also offered. visit www.bostonislands.org for event dates and times.
Volunteer Office Phone: 978 356 4406
Volunteer Office e-mail: ffithiancj@comcast.net
You can learn more about our volunteer program on the main volunteer page on this site.
---