This special selection of items are made available via our partnership with Amazon.com
FBHI receives a portion of the sale price if you purchase via the links below.
---
The books listed below are part of the FBHI Bookstore and are in our inventory. Purchase directly benefits the FBHI. Thank you!
Kings Handbook to Boston Harbor, by Moses Forest Sweetster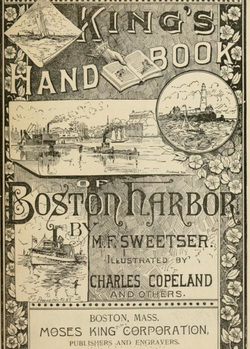 A comprehensive historic history of Boston Harbor and its Islands with over 200 illustrations. It describes the lifestyles, activities, and port events so well, you will feel transported to the 19th century. The book is an invaluable guide to the history of the Boston Harbor Islands, particularly at a time when ships and boats were a major form of transportation. Written by Moses Forest Sweetser.
304 PAGES, paperback. 1888 Centennial Edition (Special FBHI printing has a blue cover).

---
East of Boston, by Stephanie Schorow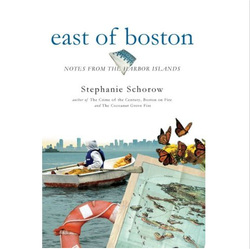 Stephanie Schorow takes readers on an informative but entertaining voyage through the Boston Harbor Islands. A practical guide, complete with camping tips and driving directions, East of Boston visits the island gems that are all within sight of the city's skyline. Join Schorow around a campfire for some friendly conversation about pirate treasure, elusive foxes, cross-dressing ghosts, flying Santas and a strange era of spontaneously combusting garbage dumps. If you are truly brave, perhaps take a sip of the park ranger s Sumac-ade.

---
Tales of Boston Harbor, by James Green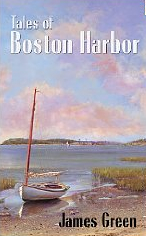 The islands of Boston Harbor are set in a necklace of shimmering light and sparkling sea. Be not seduced. Beyond the horizon, gales gather to transform the islands into a dangerous place. Visit them if you dare during a storm and, amidst the howling winds and driving rain, you will hear the ghosts of the past: cries of smallpox patients confined to island hospitals and shipwrecked men; echoes of soldiers on Long Island, George's, and Peddock's, marching off to war. You will see the apparitions of George Washington and Edgar Allen Poe.

The tale "Reminiscences of a Clamdigger" presents a vivid picture of life along the shores of Boston Harbor. In "Chortov," six seamen attempt to unravel the mystery of a missing clipper off Houghs Tombs in Quincy. "Skipping Rocks off Thompson's Island" is a hymn to dreamers and wanderers. $12.00 paperback.

---
Islands of Boston Harbor, Snow/D'Entremont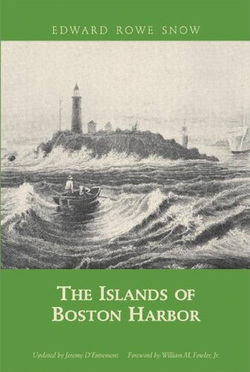 A reissue of Edward Rowe Snow's first book, covering the legends and history of nearly every rock and island in Boston Harbor, including Boston Light and Graves Light. The first (1935) edition resulted from research Snow did at Harvard under the tutelage of the great maritime historian Samuel Eliot Morison. When the 1971 edition of the book was published, a critic for the Boston Post wrote, "Mr. Snow has the gift of making his subject vivid and personal in its anecdotal touches . . . It is a volume of chatty yet dignified essays, with many a light touch brought in." This centennial edition contains the complete 1971 text, with annotations by Jeremy D'Entremont to bring the information up to date.

---
Lighthouses of New England, Snow/D'Entremont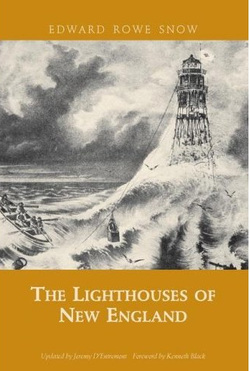 This is a reissue of one of Edward Rowe Snow's most enduring classics. First published in 1945, it relates the histories of over fifty of the region's lighthouses in rich detail. Snow gives special emphasis to the story of heroine Abbie Burgess at Maine's Matinicus Rock Light, to the rich histories of Boston Light and Minot's Ledge Light. Modern day lighthouse expert Jeremy D'Entremont has provided extensive annotations to Snow's chapters, bringing the information about each lighthouse up to date.

---
Discovering the Boston Harbor Islands, by Christopher Klein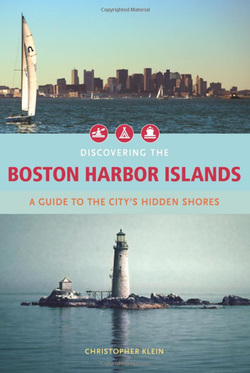 The Boston Harbor Islands are experiencing unprecedented visitation, finally assuming their rightful place as Bostons backyard. Rich with history, over 150 full-color photographs, maps, and illustrations, and a resource section devoted to the recreational offerings surrounding the harbor islands, Discovering the Boston Harbor Islands is an indispensable guide to help you plan your island adventures. Explore the military installations that protected Boston during wartime including Fort Warren, home of Confederate prisoners during the Civil War. Visit Boston Light on Little Brewster, site of the nations oldest lighthouse. Kayak into the coves where pirates and bootleggers once hid. Wander the meadows that were the camps of Native Americans and the sites of Revolutionary skirmishes. Sail to the outer islands, a spectacular ocean wilderness. Find the best year-round fishing spots and discover why the islands are a birders paradise. Take in a jazz concert, an antique baseball game, or simply hop from one island to the next to experience the stunning natural beauty of this national park area. Discovering the Boston Harbor Islands is sure to resonate with new and veteran islanders.

---
Boston Harbor Islands Photographs and Text, by Sherman Morss [Currently sold out & out of print]
Beautiful color photographs of the Boston Harbor Islands with the story of how they developed and how they have been saved.

---
Boston Harbor Islands National Park Area, Mallory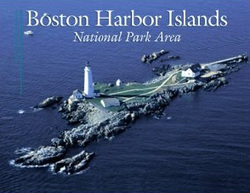 With gorgeous color photographs, maps, and informative text, this book guides you to each of the islands in the park and describes what you can see and do on each one. Serving not only as an information resource but also as a souvenir, Boston Harbor Islands is sure to find a place on the bookshelf of everyone with an interest in the Boston area.

---
Boston Harbor Postcard Series, Cann/Galluzo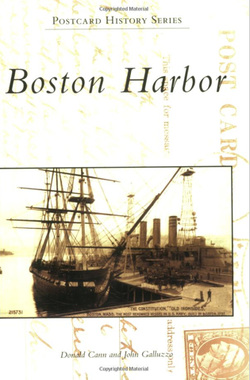 Postcard publishers had plenty to work with in the Boston area at the beginning of the 20th century, the heyday of the American postcard. The Boston Harbor Islands offered romantic scenery with their stunning natural features, historic lighthouses, and majestic coastal artillery forts. Picturesque summer destinations like Hull and Revere offered everything from sandy beaches to raucous amusement parks to grand hotels. Even the working waterfront in Boston, Quincy's Fore River Shipyard, and quiet Hingham Harbor provided excellent postcard imagery, scenes to be sent home with a wish you were here message on the back.

---
Fort Warren: New England's Most Historic Civil War Site, Schmidt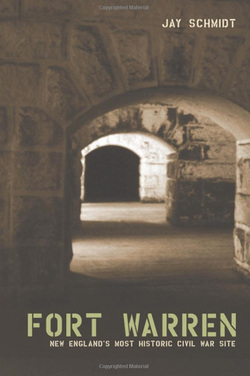 FORT WARREN was started in 1833 on Georges Island to protect the City of Boston. It was first occupied by Union Soldiers at the start of the Civil War. The government soon utilized the fort as a prison for Confederate military and political prisoners. It achieved its place in history because of many famous Confederate prisoners incarcerated within its walls. During WW I and WW II the fort, armed with huge artillery, became a mine control center for Boston Harbor. The book includes stories about the Trent Affair, the writing of the John Brown song, escapes, executions and the famous Legend of the Ghost of the Lady in Black. The print edition contains numerous photos; many published for the first time.

---
_

National Geographic Map of the Boston Harbor Islands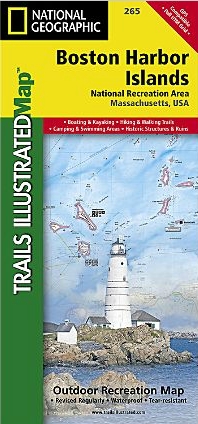 _
Detailed recreation map for the Boston Harbor Islands National Recreation Area is a two-sided, waterproof map which covers all 34 of the harbor islands plus shoreline parks, downtown Boston, access and ferry interpretive information and neighboring communities. The front side contains both bathymetry and topography—making it the perfect multi-functional map for kayaking, hiking, fishing, wildlife viewing and more. This beautiful map is a perfect souvenir to remember your trip to the park as well as a highly functional tool for those that recreate here frequently.
Users will find clearly marked ferry terminals and routes, water taxi stops, boat ramps, moorings, beaches, historic sites, campgrounds, trails, forts, and hundreds of place names. A UTM and Latitude/Longitude grid, as well as compass rose, scale bar, and marine navigation markers (buoys, lights, and soundings) will keep you pointed in the right direction.
The reverse provides even more detail, using high-resolution satellite imagery, revealing the historic structures, facilities, and terrain. Valuable park information, including recommended places to visit, history, regulations, and safety information will aid all travelers in making their island adventure safe and fun.
Coverage highlights:
Georges Island, Spectacle Island, Peddocks Island, Lovells Island, Bumpkin Island, Grape Island, Thompson Island, Little Brewster Island, Deer Island, World's End, Webb Memorial State Park, Nut Island, Boston Light, Graves Light, Boston Inner Harbor, Hingham Bay, Quincy Bay, Hull, Dorchester Bay, Marina Bay, Boston, Charlestown, Fort Warren, and Fort Independence.
---
Prefer to order by US Postal Mail? Download the PDF Form (below) and send your check to FBHI. And thank you!
---