Sponsors

2012 New England Boat Show:
Raffle tickets were provided (5) per each new membership,
or can be purchased $2/each or 5 for $10. Tickets were sold at the show 2/11-19.
Grand Prize Drawing on 2/19.

Raffle Donors (major donors in purple, lead sponsor in yellow)
Admirals Hill Marina, Chelsea MA
Autozone Auto Parts
Bed & Breakfast Afloat
Ben's Boat Crew (lead sponsor)
Birch Marine, Boston Harbor
Boston BeerBoat US

Boston Red Sox
Budweiser Beer
Cabela's
Colman
Cruising World Magazine
East of Boston (book)
Eldridges Tide Guide
Jay Way Engine Repair
Justice of the Peace, Walter Hope
Kelly's Roast Beef
Legal Sea Foods
Liberty Hotel, Boston
Marina Bay Marina, Quincy MA
Marina Life Discount Card
Nantucket Light Ship Model
(donated by FBHI member D. Dingley)
New Balance Athletic Shoes
New England Patriots
Portland Maine Sea Dogs Baseball Team
Sailing World Magazine
Sea Tow
Soundings Magazine
Vineyard Vines
Winthrop Harbor, Winthrop MA
Congratulations Boat Show Raffle Winners!
Binda, ticket # 2859797 (big prize)
Jadul, ticket # 2859844 (quick raffle)
McNamara, ticket (big prize)

John & Cat (quick raffle)
Carley, ticket # 2859641 (big prize)
Maciewicz, ticket # 2859857 (quick raffle)

Knox, ticket # 2859874 (big prize)

Finkeldey, ticket # 2859924 (quick raffle)
Pierce, ticket # 2859926 (quick raffle)

Cumming, ticket # 2859997 (big raffle)

Luanne, ticket # 8197074 (quick raffle)

Lodge, ticket # 8197014 (big raffle)
O'Connel, ticket # 8197034 (quick raffle)
Skidmore, ticket # 2859852 (big raffle)
Monto, ticket # 8197190 (quick raffle)
Kittle, ticket # 8196917 (big raffle)
GRAND PRIZE WINNER! - O'kerby, ticket # 8197146
Thank you to all who visited our booth, for your purchases, discussions and comments. 100's of tickets were sold, many new memberships were created, new benefits for FBHI members have been developed as a result of the show with more in the pipeline. And a very special thank you to our friends at the New England Boat Show!
Thank you to all of our New England Boat Show Sponsors and Donors, please support these generous businesses! Contact the Friends if you would like to Sponsor the organization.
---
You can donate to the Friends 'anytime'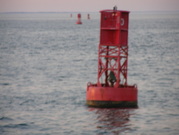 ---
Donating to the Friends is 'separate' from joining as a member. Enter any amount (over $10 please due to service charges), and Thank you!
FBHI totally revamped our web page in January 2012
This chart shows the number of 'hits' or visits to our page. Thank you for visiting FBHI.org!