---
Download the FBHI 2014 Boat Brochure Here:
We go to Places in Boston Harbor that Few Visit - Join Us & Explore the History & Beauty of Boston Harbor's Islands!

Events/Calendar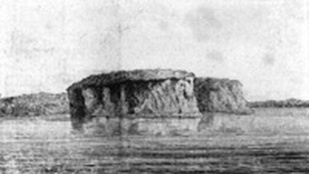 what was once Nix's Mate
_
Upcoming Events 2014:
(items following an
orange FBHI
notation are FBHI sponsored activities, in the interest of spreading the word about other Boston Harbor Island activities we will list many other harbor related items on this page). Text in
BLUE is a clickable LINK
and will bring you either to a page of interest on the FBHI web site, or will open another page to a web site of interest. Thank you for visiting, come back often!
FBHI - Library Legacy Project: The following libraries have are hosting FBHI displays about the Boston Harbor Islands starting in May - Avon,Everett - Parlin & Shute Branchs, Holliston, Lincoln, Marshfield, Pembroke, Plympton and Whitman. Can't make it to the harbor - come visit our displays at these wonderful libraries!
FBHI Thursday June 5 at 7pm at Thayer Public Library in Braintree will have " Explore the Boston Harbor Islands" general Park overview
FBHI Thursday June 19 at 6:30pm at the Foxboro Public Library will have " Boston Harbor Islands - Home on the Harbor"
FBHI Saturday June 21 at10:30am at Plympton Public Library will have a coffee-talk version of " Home on the Harbor "
FBHI June 22 from Rowes Wharf (One Rowes Wharf, Downtown Waterfront) 12 noon to Great Brewster Island (returns 5 pm)
FBHI Wednesday June 25 at 6pm - Sunset Adventure boat trip from Rowes Wharf to Lovells Island (returns 9pm)

FBHI Monday June 30 at 6pm at Public Library in East Bridgewater will have "Boston Harbor Islands - Home on the Harbor'
FBHI Wednesday July 9 at 6pm Sunset Adventure boat trip from Rowes Wharf to Long Island (returns 9pm)
FBHI Friday July 18 11 am from Umass Boston Marine Operations at Umass Harbor Campus (Dorchester) boat tour of Boston's lighthouses (returns 1:30 pm)

FBHI Wednesday August 6th at 6pm Sunset Adventure boat trip from Rowes Wharf to ----- (returns 9pm)
FBHI Friday August 8 11 am from Umass Boston Marine Operations at Umass Harbor Campus (Dorchester) boat tour of Boston's lighthouses (returns 1:30 pm)
FBHI Wednesday August 20th at 6pm Sunset Adventure boat trip from Rowes Wharf to Long Island (returns 9pm)
FBHI Friday September 12 11 am from Umass Boston Marine Operations at Umass Harbor Campus (Dorchester) boat tour of Boston's lighthouses (returns 1:30 pm)
FBHI August 16 from Rowes Wharf (One Rowes Wharf, Downtown Waterfront) 10 am to Calf Island (returns 2pm)
FBHI October 11 from Rowes Wharf (One Rowes Wharf, Downtown Waterfront) 10 am to Rainsford Island (returns 2pm)
FBHI September 20 from Rowes Wharf (One Rowes Wharf, Downtown Waterfront) 1 pm to Great Brewster Island (returns 6pm)
---
---
2014 Past Events


_
2014
January 1 - Seafarers Holiday Trip to Spectacle Island

May 18 - Annual Meeting at Long Island